Manage inventory and stay in stock with WooCommerce inventory management software
Managing inventory for your WooCommerce store can be tricky, especially when you're growing fast. Different types of stock and custom orders make efficient inventory management for WooCommerce sellers essential for success.
Katana integrates with WooCommerce with for end-to-end stock management
Know what you have in stock and where you have it at any one time. WooCommerce inventory management plugins like Katana update your raw materials and product stock based on sales and production orders in real-time.
Track your inventory across multiple locations for several WooCommerce stores to avoid stock-outs
A live stock-level overview
Get a complete overview of raw materials, bills of materials (BOMs), and finished products in real time
All item variants in one place
Manage all product variants and raw materials in one visual and intuitive manufacturing software solution
Katana works seamlessly with your WooCommerce store by signaling when you need to create purchase orders at low stock thresholds
Get manufacturing cost calculations for all of your products with our moving average cost feature and order at the optimum moment
Katana supports both make-to-order and make-to-stock manufacturing workflows to support your business needs and help you stay flexible
With Katana, we are able to track products, build recipes for materials, and set reorder points for our materials as well."
We chose Katana because it seemed to be the most user-friendly software we tried – it is very easy to use and the customer service is great!"
Since implementing Katana, we've grown our product offering, and that wouldn't be possible without it. It has freed up my time so I can focus on designing and creating more products. It also means that I am not working until 11 pm every night."
We struggled to know which items are in stock so that we could build a batch and therefore often found extra components lying around […] Katana, we can now know what we have in store and where to look for it."
Streamlined inventory management with one cloud manufacturing software
Katana's WooCommerce inventory management integration ensures live stock synchronization between WooCommerce and your cloud manufacturing software. Katana automatically takes your available goods and materials and allocates them to production and sales orders, giving you an up to date, autonomous stock count in real time.
Most manufacturing businesses leverage their online (and offline) presence by selling through different channels. With Katana, you can manage multiple sales channels and inventory, all in one place. That way you can ensure accurate stock quantities no matter the sales channel, and easily monitor raw material availability and to fulfill WooCommerce sales orders on time.
WooCommerce inventory mangement software for D2C manufacturers
By understanding the requirements behind running a growing manufacturing business, Katana is designed to go beyond just being an inventory management system. Direct-to-consumer manufacturing via WooCommerce is increasingly popular, and unlike retailers, if you need to make your own products, you'll need both a production planning an inventory management tool.
As an end-to-end manufacturing management solution, Katana makes it easy to track inventory movements as well as production operations throughout all stages of your product lifecycle. Katana supports import export for sales orders from your WooCommerce store, allowing you to quickly and easily manage order fulfillment, inventory, and production in Katana.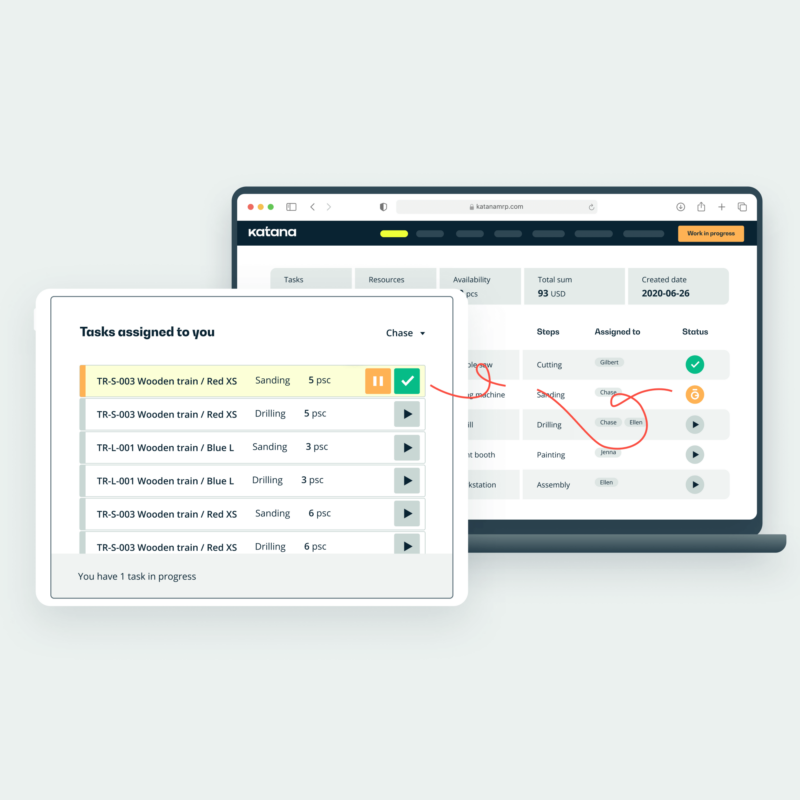 Inventory control for multiple sales channels with Katana integrations and automation
Thousands of manufacturers use Katana to improve efficiency and reduce human error. Katana's real-time master planner introduces inventory automation, so you no longer need to rely on a csv file for stock tracking.
Not only does Katana's software track inventory and update stock store, but you can also connect to a broad range of services to bring unite all your business software. Katana integrates with a range of e-commerce platforms and marketplaces, as well as accounting, automation, reporting, and shipping solutions.
WooCommerce inventory management software FAQs
Start manufacturing in the cloud